About the Show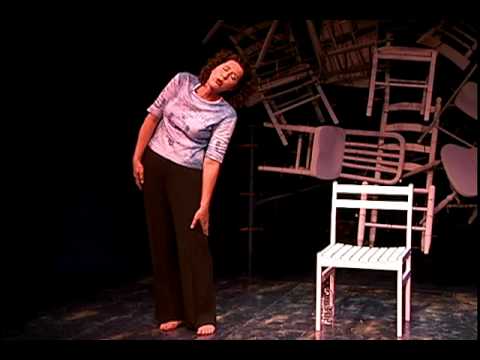 A sassy receptionist sits at a busy switchboard, fielding calls from irate tenants, covering for an absent boss, and trying to fend off two nasty killers who are determined to move in.
Sound like the office building from hell? It's not. It's "Jonna's Body, Please Hold," the emotionally riveting, outrageously funny chronicle of Jonna's cancer trip (Hodgkin's Disease, Large-Cell Lymphoma, Breast Cancer).
Experience the wonderment and zest for life in every moment of this strikingly original, hilarious, and incredibly uplifting show. Jonna has created a fun, totally new performance that challenges despair.
The show built a huge following with its 7-week run at LA's Odyssey Theater, as well as performances around the US. We bring the performance (followed by a group discussion, if you like) to support communities, universities, hospitals, and conferences, and the response is tremendous: audiences are brought to their feet, transported by Jonna's humor and tenderness.
With courage, honesty, and laughs galore "Jonna's Body, Please Hold" takes you on an incredible journey, told by the 'citizens' of Hotel Jonna. There's Baby Toe, squeezed into a too-tight pump; Upper Back, contorted and threatening to go on strike; Uta and Ula, the bumbling Breasts, begging to be released from their brassiere imprisonment; and many others. Their tranquil, if sometimes neglected, existence is threatened when the sinister Venice and thuggish Walter decide to make Jonna's Body their personal party suite.
As the battle rages, the characters must rally, and Jonna finds she has the greatest ally in the world, the strength and will of her own body.
There's never been a cancer show like this: riveting, informative, and riotously entertaining!
Jonna Says
I started performing in grade school, attended Stanford University, and worked with several sketch companies in San Francisco before touring the U.S. as a Ringling Bros. Circus clown. Now I live in Los Angeles.
I wanted to make a show that expresses the fullness of life: the laughter, joy, silliness and power as well as the struggle. My favorite part is when Baby Toe says, "If I can make it through hanging out the side of a sandal, then we can make it through anything!" That reminds me not to take the hard times too hard, and to remember the funny. And that's what I want to share with audiences. I want people to come away from "Jonna's Body, Please Hold" full of hearty love and the dizzy delight of being alive.
Book a Performance
Booking Our Speakers
Workshops
Consider scheduling a creative workshop for your group or community. A great way to put inspiration into action!
Writing and Storytelling
Solo Lowdown
Character Development for Stage
Improvisation
Learn more about the workshops here
Bring Jonna's Body, Please Hold to your event. The play can be performed in almost any venue. Below are the specs we prefer, but we're flexible. Let's talk!
Stage: A sturdy, well lit stage or performance area of at least 12′ x 12′ (20′x20′ is preferred)
Set: please provide a sturdy, armless chair. Wide seat if possible. Unupholstered if possible.
Lighting: No special lighting needed, but it works best if the stage area is brightly lit from the front. (Performances in hotel ballrooms: it's best to supplement the overhead lighting with a free-standing stage light, especially for large groups).
Sound: The show has sound and musical cues. You'll need to provide a sound system with the ability to connect a small four channel mixing board for the microphone and mp3 player.
Microphone: We provide a wireless, over-the-ear (Madonna) mic.
Other stuff: Whenever possible, please provide a private dressing room or 'green room' for use before and after the performance.
No videotaping, recording, web or broadcasting of the performance is permitted.
Reviews & Audience Comments
Comments
This presentation was amazing – I didn't want it to end! I left it feeling uplifted and inspired. Jonna is SO talented and courageous. I'll have her in my heart for the rest of my days.
The show blew us away! There are not enough accolades.
Stephanie Allen, GILDA'S CLUB
The show was spellbinding, fabulous, truly high art! I recommend it to anyone, especially any health care workers in oncology.
Tom Comerford MD, Radiation Oncologist
Jonna was amazing and extremely entertaining. She deserved the standing ovation she received.
It was an incredible performance and story, one I won't get out of my mind for a long time. I would recommend everyone I know to see it. Thank you for bringing it to us.
The lasting effect of your poignant and insanely hilarious journey is an awareness of both the fragility and the richness of life.
George Mansfield
Jonna was amazing, her incredible story was simultaneously side-splitting funny and tear-jerking tragic. True clown material, delivered by one first-class clown.
Incredible presentation! Touching, entertaining, and gave you a feel for what the patients are dealing with. Thank you to whoever came up with the idea to invite her!
I left the theater on a crusade to get everyone I know to see it.
Morgana Rae
What an awesome performance!
This presentation was outstanding. I laughed and cried. Tamases was fantastic.
This was the most awesome 1 hr of my time. I will NEVER forget this woman. Thank you!
The show was spellbinding, fabulous, truly high art! I recommend it to anyone, especially any health care workers in oncology.
Tom Comerford, MD Radiation Oncologist
This is one of the best presentations / performances I have ever witnessed. . . PLEASE BRING JONNA BACK!
Awesome, Awesome, Awesome!!!
Jonna was amazing. I want to see her again!
She is a truly wonderful example of human strength, compassion, determination, and love. Thanks for such a wonderful event.
Jonna was wonderful, she was an inspiration. And so funny!!!!
You must experience this show for yourself. This show changed me.
Lisa Gould
Captivating…Hilarious…Thoroughly original
Daily Variety
Witty…Delightful…Unabashedly theatrical
LA Times
Jonna stole my heart…Heartfelt, funny and poignant…
Showmag.com
Cleverly scripted, beautifully executed
Daily Variety
Quirky and full of joy
Jewish Journal
Lissome, mime-like physicality …, which showcases the talented Tamases to delightful advantage while making an uplifting statement …
LA Times
The actress' hysterical and stirring narrative takes the audience on a tour…My few words here cannot pay tribute to a performance of such personal genius.
Edge Magazine
Delightfully charming…Jonna is a mini-dynamo…with loads of charisma…
Showmag.com
Leave Your Own Review of Jonna's Body!
Happy Clients
We pride ourselves on giving you not just a great show that will thrill and delight your audience, but also a great working process. When you call, we answer (or phone you back promptly!). We're friendly, accommodating, and easy to work with. We look forward to making a great event with you!
Pasadena, CA
Bellevue, WA
Los Angeles, CA
Cape Coral, FL
Costa Mesa, CA
Kalamazoo, MI
Idyllwild, CA
Laguna Beach, CA
Dallas, TX
Palo Alto, CA
Duarte, CA
Las Vegas, NV
Memphis, TN
Minneapolis, MN
Fayetteville, AR
Bend, OR
Syracuse, NY
Washington, DC
Bentonville, AR
UCLA, CA
Victoria, BC, Canada
Vancouver, BC, Canana
San Antonio, TX
Fort Collins, CO
Palm Desert, CA
Columbus, OH
St. Louis, MO
Tampa, FL
Worcester, MA
Sacramento, CA
Torrey Pines, CA
Spartanburg, SC
Birmingham, AL
San Diego, CA
Acme, MI
Green Bay, WI
Boston, MA
Rochester, MI
Orange, CA
Mars, PA
Rootstown, OH
Berkeley, CA
Huntington Beach, CA
San Francisco, CA
Rochester, NY
Thousand Oaks, CA
Grand Rapids, MI
Overland Park, KS
Bethesda, MD
York, PA
Helena, MT
Billings, MT
Butte, MT
Bozeman, MT
Upland, CA
Irvine, CA
Davie, FL
Steven's Point, WI
Salem, OH
Wellington, NZ
Auckland, NZ
Nelson, NZ
Midland, MI
Lansing, MI
Knoxville, TN
Lakeland, FL
Riverside, CA
Westwood, KS
Provo, UT
Madison, WI
Rockford, IL
Renton, WA
Laguna Beach, CA
South Sioux City, NE
Latest News and Updates
Media Reviews
Check this out!
Click to learn more about "Symphony in Be Flat"